Dinner tonight was true comfort food! I took a recipe used rice pasta, sharp cheddar and potato starch in lieu of flour as a thickner. I was delighted to learn that Aidells Chicken and Apple Smoked Sausage is gluten free.
The sausage is purchased at Costco. It is fully cooked, low fat and delicious. It was used to make Kielbasa and Apple Pasta Bake.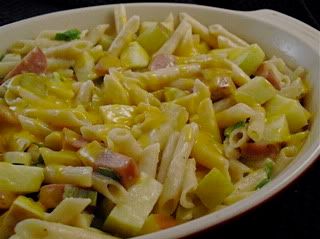 Being gluten free does require a commitment to reading labels. It doesn't mean that meal time has to be boring.