I have been an avid sourdough baker for many years. This was a result of our cruise to Alaska where I was introduced to the rustic texture and flavor of sourdough. After going gluten free I was somewhat concerned that my love relationship with sourdough was over.
Never fear. I did some research and found a recipe for making brown rice flour sourdough starter. I tweaked the recipe to my liking. Gluten Free Brown Rice Sourdough Starter is made with commercial yeast instead of attracting and growing the wild yeast; however, it is good and gives me hope that I can still enjoy the flavors of sourdough.
The starter has been used to make Multi-Grain Gluten Free Sourdough Waffles and now biscuits. I have made Honeymoon Sourdough Biscuits in the past using regular sourdough and Bisquick and have now succeeded in making them gluten free.
Betty Crocker has recently put on the grocery shelves Gluten Free Bisquick. I purchased a box and was pleased with the shortcakes. Remembering how quick and easy the sourdough biscuits were with Bisquick, I gave it a try. My very first try produced some very good biscuits. Then I forgot to write down what I had done and the second time around I wasn't as successful. Now I am writing it down.
Gluten Free Honeymoon Sourdough Biscuits
Preheat oven to 425 degrees.
Measure the Gluten Free Bisquick into a medium size mixing bowl. With a pastry cutter, cut in the shortening and baking powder until thoroughly combined. Cut in the starter and enough milk to make a soft dough but not a sticky dough.
Divide the dough into 6 equal portions. Shape into a ball and place into a 6 hole muffin tin. Flatten the dough slightly, cover and allow to rest for 10 minutes. Top each biscuit with a small amount of butter, place into preheated oven and bake for 12 to 15 minutes or until lightly browned. Enjoy!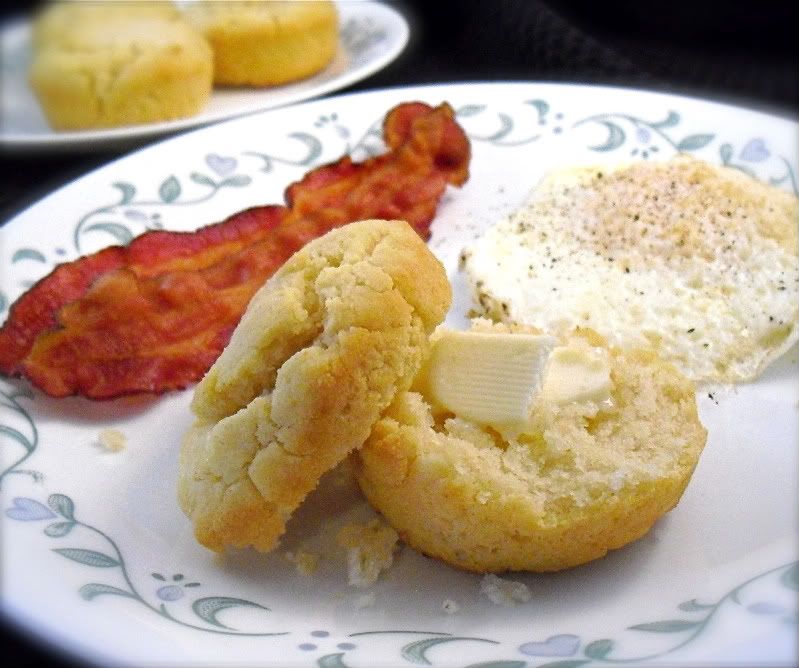 Remember that sourdough baking isn't an exact science. Add in liquid gradually.