It is the season of gift giving!  Christmas is fast approaching and will be upon us in less than a week.  If you are like me, you have been preparing for the Big Day for some time.  When I see things that I think would make a nice gift for someone, I usually try to get it and stash it in my closet.  Then come the gift giving season I bring it out.  Great idea until my closets starts to overflow as it is right now.
Several weeks ago my daughter asked "What would you and Dad like for Christmas?"  This got me to thinking not only about what we might like but what is the reason for the season.  These thoughts brought to mind an assignment I was given in sixth grade.  My goodness that was a long time ago.
The assignment was to write about What Christmas Means to Me.  Certainly after all this time I can't possibly remember the paper word for word.  I do remember writing about the bright lights, the decorated stores, Santa's on ever corner.  I also wrote about the excited children that might or might not receive their Christmas wishes.  Most important I remember writing about the birth of the one that is the reason for the season–Jesus.  I was very proud of that paper.  The teacher selected several to display during the school open house and my paper was one of the ones chosen.
I have a pretty tight schedule between now and the big day.  This year Papa and I have been busy painting doll beds and making comforters, sheets, pillows and afghans.
These will be for our precious little granddaughters.  I still have binding to finish on one of the beds.  That is on my agenda for this afternoon after making our Costco run.
I have also been busy making "food" gifts.  I am doing Moussaka by evelyn/athens.  This is for my son-in-law.  One of his al time favorites.  Having some leftover sauce I made a 4 serving dish of Pastitsio also by evelyn/athens.  My daughter has requested My Take on Texas Chili which just happens to be a recipe that she developed and posted.
My son will be getting some chicken enchiladas which I will have to post my recipe one of these days as well as Barilla No-Boil Lasagna.  I have made the lasagna using gluten free noodles and it works very well.
Then let's not forget the cookies, the fudge, the dinner, the last minute shopping, cleaning the house, the parties and most importantly the true reason for this joyous season.  The birth of our Lord and Savior. God gave us the greatest gift of all.  As we go about the holiday preparation let's also remember to celebrate the birth of His only son.
I had a great opportunity to help make Christmas a very special time for several children.  We did our annual Christmas Child Shoebox. Donated to Toys for Tots and probably the one that has touched my heart more was the giving of our 9 foot tree to a family in need.   The tree led to the family also receiving gifts for the children in the family.  Giving to others is important not only now but throughout the coming year.
We inherited this 9-foot, pre-lite, Christmas tree when we bought our house along with this gigantic wreath.  Being 9-feet tall, it is bulky and hard for us to put together.  Then there were also storage issues.  I kept putting off decorating because I didn't want to put up that tree.  I am so thrilled that it found it's way to a home that really appreciated and needed it.  My neighbor down the street had the information on the family in need.  She not only picked up the tree from me but also gathered toys for the children and delivered the items to the family.   A special thank you to all that helped to make this happen.
What is the holiday without food?  Years ago I found a great recipe for a munch mix.  It became a family tradition until somehow I managed to loose the recipe.  I have searched the web, looked through cookbooks and asked people for the recipe.  Well this year I found it and was able to successfully modify the recipe to make it gluten free.
Nuts and Bolts
2 cups Nature's Path Organic Whole O's (gluten free)
1 cup Rice Chex
1 cup Corn Chex
1 cup dry roasted peanuts
1 cup pecan halves
1 cup live gfree pretzel sticks
1/4 cup butter
1 tablespoon Lea & Perrins Worcestershire Sauce
1/2 teaspoon of each celery salt, onion salt and garlic salt or
1 1/2 teaspoon seasoning salt of your choice
1/2 teaspoon paprika
Preheat oven to 250°.
In a large bowl combine the cereals, nuts and pretzel sticks.  Place the butter in a 2 cup microwavable container and microwave until melted.  Stir in the Worcestershire sauce and seasonings.  Pour over cereal mixture and toss gently to coat.
Spread onto large baking sheet and bake in preheated oven for 1 hour, stirring gently every 10 minutes.  Allow to cool completely before packing for gift giving.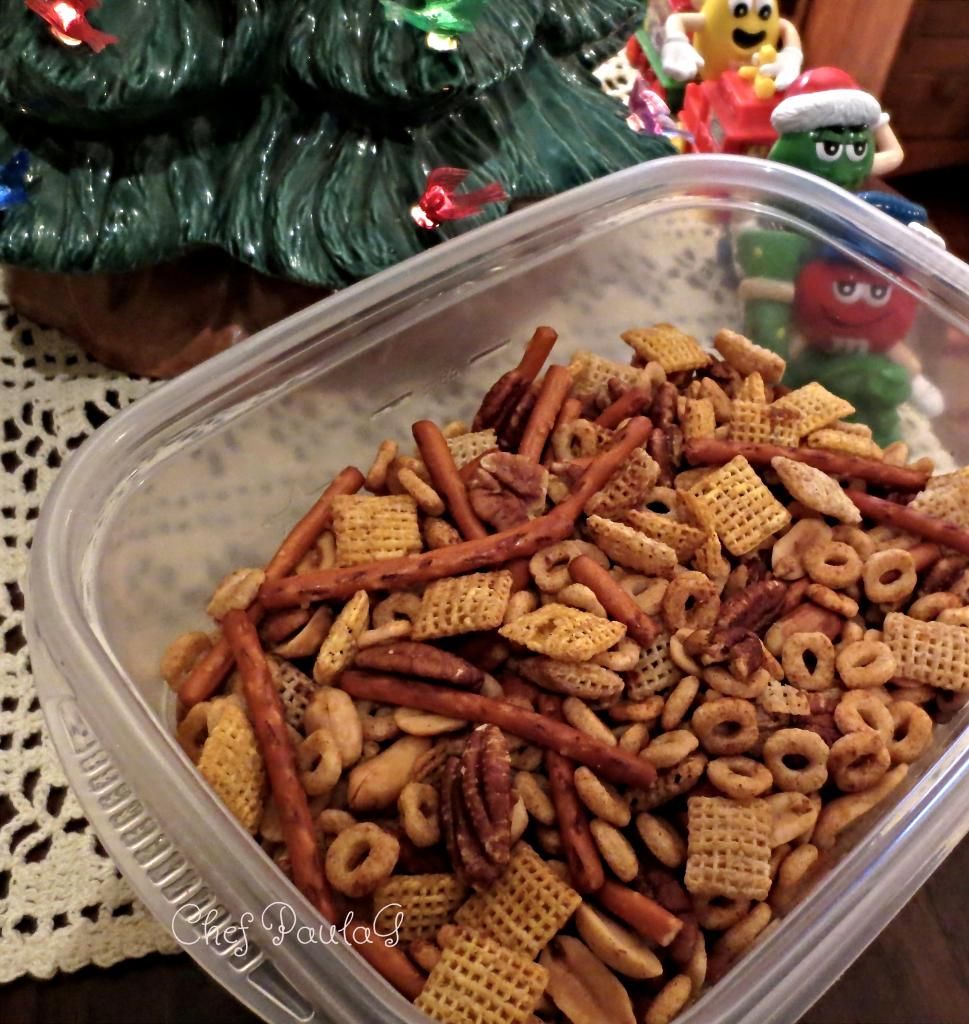 As always when cooking gluten free…..read, read, read labels!  I recently purchased a jar of paprkia and guess what was hiding inside?  Wheat!
Wishing all of you a very blessed holiday season.  Give the gift that will be returned over and over–love.