We had a snow/ice storm that moved in late yesterday and continues this morning.  So when you can't get out what do you do?  Well I want to eat and eat and eat.  In order to eat you have to cook.  I have a wonderful gluten free sourdough starter that I made some time ago.  The starter was made based on a Flourish blog post.  It is the best starter ever.  So if you have a gluten free starter you want to make something with it right?
This morning I threw caution out the window and got creative.  The recipe may need some tweaking but I thought I would share it with you.  It was a combination of so many wonderful things I have learned about gluten free baking.  If you make the recipe before I have a chance to make it again, please let me know if you have any problems or suggestions.  After reading Flourish, I took the Gluten-Free Cinnamon Roll recipe from King Arthur and overhauled it.
Sourdough Cinnamon Rolls by PaulaG
1 1/4 cup Pamela's Artisan Flour Blend
1/4 cup Almond Meal
2 tablespoons King Arthur Cake Enhancer
1 teaspoon salt
2 teaspoons instant yeast
1 cup sourdough starter, freshly fed
4 tablespoons soft butter
2 tablespoons vegetable oil
1/2 cup warm milk, plus additional for brushing on dough
1 large egg, room temperature, lightly beaten
1 teaspoon vanilla
1 teaspoon Butter Sweet Dough Flavor

Filling:

3/4 cup brown sugar
4 teaspoons cinnamon
4 tablespoons butter, softened

Glaze

:
3 oz  cream cheese
2 tablespoons butter, softened
1/2 teaspoon vanilla
3/4 cup powdered sugar
milk
In the mixing bowl to a stand mixer combine the flour blend, almond meal, cake enhancer, salt, yeast and sourdough starter.  Add in the butter and blend on low speed until combined and crumbly.
Add in the oil, milk, beaten egg and flavorings.  Beat until incorporated.  Scrape the sides of the bowl and beat on medium speed for 2 to 3 minutes.  Cover the dough and allow it rise in a warm place for 1 hour or until puffy. I have plastic bowl covers that are perfect for covering the dough
I allow the starter to rise overnight in my oven with the oven light on.  When making the dough, I put the ingredients into the oven in the morning and let it warm while enjoying a cup of coffee.  Then when the dough is ready for it's rise I pop it back into the oven and enjoy a second cup of coffee.
While the dough rises make the filling.  To make the filling combine the brown sugar and cinnamon then mix in the softened butter to form a paste.  Set aside until dough is ready to roll out.
Rolling out the dough can be a little tricky.  This is a soft dough and requires some special handling.  I learned somewhere along the way that I can line a cookie sheet with parchment paper, sprinkle it with gluten free flour and actually use the paper to help roll the dough.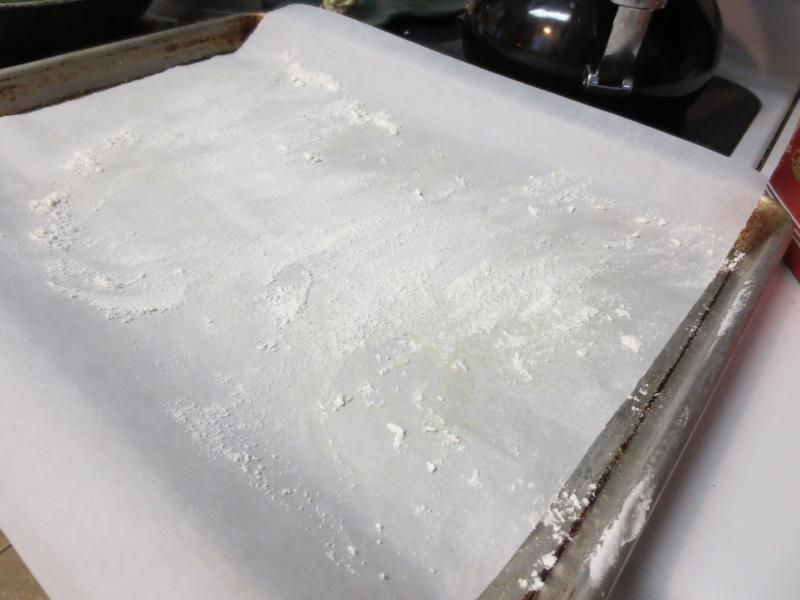 When you are ready to roll the dough preheat the oven to 350°, stir the dough down and turn it out onto the prepared paper.  Lightly dust the dough with flour and gently roll out into an 8″ x 16″ rectangle.  It doesn't have to be exact just something close.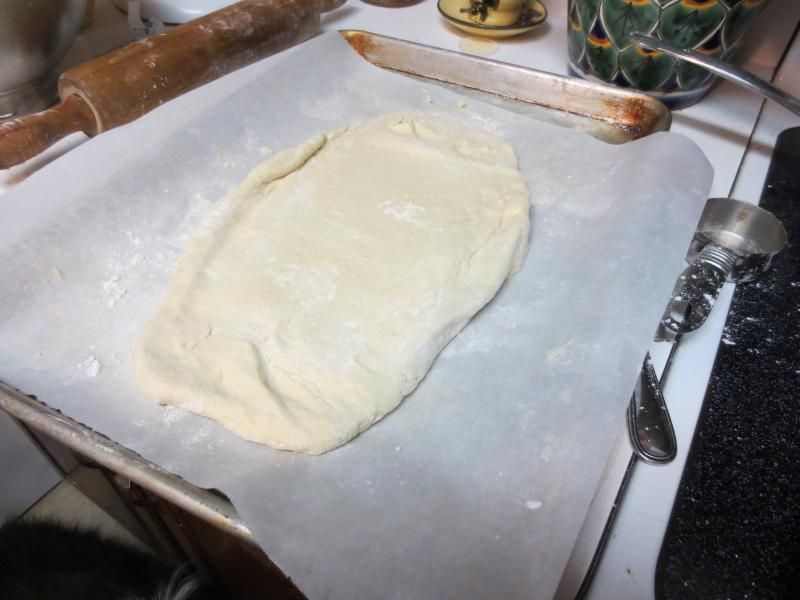 Spread milk over the dough and then sprinkle on the filling leaving about 1/2″ border.
Now comes the fun part!  Using the paper to help you roll up the dough to form it into a log.  Using a bread knife, cut the log into 7 to 8 equal slices.
You will need to flour your hands and gently place the slices into an 8″ cake pan that has been sprayed with non-stick cooking spray.  You will probably need to gently pat dough to form it into round slices.  Place them around the outside of the pan with 1 roll in the center.  Brush the rolls with milk to help promote browning.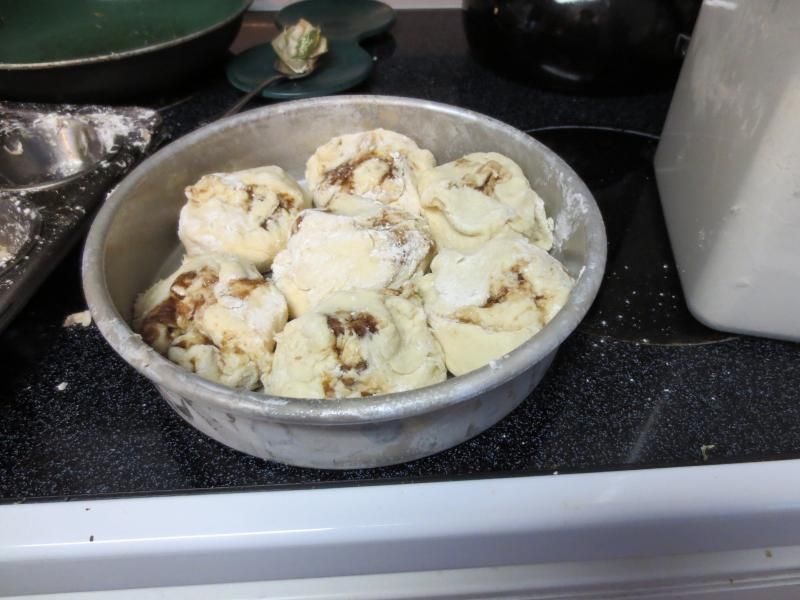 Put pan in the preheated oven and clean up your mess.  The rolls will take 25 to 30 minutes to bake.  After the kitchen is clean, make the icing by putting the cream cheese, softened butter and vanilla in a mixer bowl and beat until combined.  Thin as needed with a small amount of milk.  Then wait to smear it all over your freshly baked roll.s  Allow rolls to rest for 5 to 10 minutes before glazing.  The rest period is essential to help the rolls set properly before removing from the pan.
Once glazed enjoy the fruits of your labor.